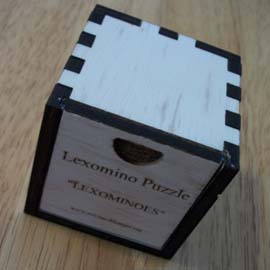 Lexomino Puzzles
Custom Puzzles As Unique (And Difficult?) As You Are
Are you looking for a puzzle custom-made for youself? Or maybe a friend has a birthday coming up, and you are looking for a unique gift? Well, if it's a puzzle you have in mind, then a Lexomino Puzzle may be the answer.

Lexomino Puzzles consist of pieces in the shape of letters of the alphabet. The goal of a Lexomino Puzzle is to fit those pieces into a rectangular box of a particular size. To fit them into the box's volume, though, usually requires a lot of experimentation and interlocking of the pieces.

At this website I take orders for Lexomino Puzzles where the letters used generally spell out a name. For example, if your name is "John Smith," you can order the set of nine puzzle pieces: J-O-H-N-S-M-I-T-H. In addition to those pieces, I will construct a custom, wooden box of appropriate size into which you are to fit the pieces.
Examples of Lexomino Puzzles
"LEXOMINOES" puzzle designed to fit into a 5x5x5 box (3 solutions possible).
My name, "ERIC HARSHBARGER", fits into a 6x6x6 box -- thousands of solutions (a smaller volume box, 5x6x7, is also possible).
Here is the whole alphabet, letters A-Z; this makes a very difficult Lexomino puzzle, but it is possible to squeeze all twenty-six pieces into a 9x7x5 box.
Here is an prototype I made for a friend, "JULIA TUCKER". It has a unique solution for a 5x5x5 box.

If you have purchased a Lexomino Puzzle from me and would like to show it off, feel free to email a photo or two of you working/solving it... I'll find a place on my website to display them.
Reviews
If you have purchased a Lexomino Puzzle from me and write up a description about your puzzle (on your blog or elsewhere), please let me know!
Review by Gabriel Fernandes (Portugal)
Frequently Asked Questions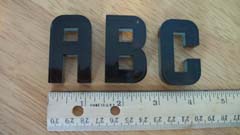 What do the letters/blocks looks like? Most of the letters are based on cubic units and fit into a 5x3x1 volume. Some of the letters require slightly larger bounding boxes. A diagram of the letter designs is available for review (this is a 2 dimension diagram, and does not show the letters' depth). You'll note that a few of the letters (C, E, and F) have alternate designs. Those are occasionally used if they help make the puzzle solvable or make a particular puzzle more difficult (by adding more volume). The letters are all capitalized (well, the "N" not quite). The digits 0-9 may also be incorporated into a Lexomino Puzzle, if desired.
How big are the pieces? The letters are based on cubic "units", and each "unit" is a 3/8" cube. So, the "A" piece, for example, which is one of the letters bounded by a 5x3x1 volume, is 15/8"x9/8"x3/8" in size. All of the letters are 1 unit (3/8") thick.
How long of a name/word can I request for my puzzle? Theoretically, you can request any number of letters, but I've found that the most enjoyable puzzles are between 8-12 pieces. Furthermore, if you exceed 14 pieces, then it can start to be troublesome analyzing how small a box the pieces can fit into. The number of letters in your puzzle also affect the cost
BOX SIZES
For most Lexomino Puzzles the boxes the pieces fit into will be one of the following sizes (WxHxD in "units" where each unit is a 3/8" cube):
5x5x4 (100 volume)
6x5x4 (120)
5x5x5 (125)
4x4x8 (128)
3x5x9 (135)
7x5x4 (140)
6x6x4 (144)
8x6x3 (144)
7x7x3 (147)
6x5x5 (150)
8x5x4 (160)
7x5x5 (175)
6x6x5 (180)
8x5x5 (200)
14x5x3 (210)
6x6x6 (216)
Obviously, the volume the individual letters take up greatly affects what size box they might be packed into. Generally I will try to pack the pieces into as small a box as possible (and recommend this size to the buyer), but sometimes I might lean toward a box that is a more cubic (its dimensions are closer to equaling one another).
How big is the box they fit into? This depends upon the letter-pieces you request for your custom puzzle. I custom cut the boxes as well as the pieces, so I generally try to satisfy two parameters when designing them: 1) minimize the volume of the box so that there is as little "empty space" inside when the pieces are fitted into it, and 2) try to make the box as close to a cube as possible. While the former condition generally takes precendence, I do try to keep the three dimensions of the box as close to one another as possible. Once I know what Lexomino letter-pieces are desired, it takes some time for me to determine what size of box would be most appropriate for the puzzle. I will then respond to the request by suggest a box size, and when the requestor confirms that is what he or she wants, then I will make the puzzle for him or her. All of this talk refers to the inner dimensions of the box; the wood itself is just under 1/4" thick.
Is the box filled completely when the puzzle is solved? No. There will be empty spaces in the box when the puzzle is solved. The goal of the puzzle is to fit all of the pieces into the box so that the lid closes, not to completely fill the box.
What material are the puzzles made of? The Lexomino Puzzle pieces are laser cut from 3/8" thick acrylic. Right now they are only available in smoke gray (translucent) color (I hope to eventually offer more colors at a later date). The boxes are laser cut from poplar wood and glued together. The lids of the boxes slide open. On the top of the lid will be engraved the title: "Lexomino Puzzle YOUR NAME/WORD". A different title can be engraved by request for a small fee.
How difficult is a Lexomino Puzzle to solve? That is really tough to say. It depends a lot, of course, on the solver, but it does also depend very much on the name or words used in a specific puzzle. Sometimes a particular set of letters packs very densely into a small volume box, and thus the solution is quite intricate, interlocking, and difficult to discover. Other times the only volumes which the letters will fit inside are rather spacious (they leave many empty spaces), so the solver has much more leeway in finding a solution. In general I try to pack the letters as densely as possible into as small a volume as possible. Whether the solution(s) are deemed "easy" or "hard" is very much up to the individual; either way, though, there is no doubt that the puzzle is interesting, unique, and a great conversation piece.
Do you provide a solution to the puzzle? Well, the puzzle will be shipped to the buyer in a solved state (i.e. all of the pieces will be fitted into the box, its lid closed). So the buyer is encouraged to take the pieces out carefully if he or she wants to study the solution. I am also willing to engrave a schematic of the solution on the underside of the box's lid, but this will cost extra. Here is an example of a solution schematic for the puzzle using the word "LEXOMINOES" fit into a 5x5x5 box; and here is how it looks engraved on the underside of the lid. If that notation for a solution is not immediately intuitive to you (i.e. you don't see how that conveys the answer), it may not be worth the extra money...
Are the solutions unique? Generally not. Occasionally a combination of pieces and its associated box size lends itself to only one solution, but usually there are multiple solutions. I will guarantee that every Lexomino Puzzle purchased has at least one solution.
Can I get replacement pieces for ones that I have lost? Yes. See the next section below.
Ordering A Lexomino Puzzle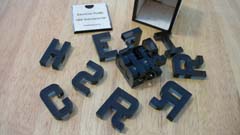 The cost of a Lexomino Puzzle is $25 + $5 per letter requested (regardless of the specific letters). If you want a solution engraved into the underside of the lid (see above), that costs an additional $10. If you want a different title (other than the default "Lexomino Puzzle YOUR WORD/NAME") engraved on the top of the lid, that, too is an additional $10. Finally, the charge for packaging, handling, and shipping is $10 per order (shipping outside the U.S. is likely more -- contact me in this case).

If you are interested in ordering one or more Lexomino Puzzles, email me at eric@ericharshbarger.org. Tell me what name or word you would like to use in your puzzle. I will analyze the pieces and (hopefully within 24 hours) let you know what size box I would recommend for the puzzle. If you confirm your desire to purchase it, I will then you send you information as to how you can pay me via Paypal. Also, please mention how you heard about my Lexomino puzzles.

If you just want to order individual letter-pieces (say, to replace lost ones), you may do so at a cost of $5 per piece plus $5 for packaging/shipping/handling (in the U.S.).
---
Eric's Homepage