"Elemental" Digits In A Box, Custom Sets
After viewing my videos (see my first set and second set) documenting the creation of "Elemental" versions of my Digits In A Box puzzle, a few of my friends said they might be interested in purchasing such sets for themselves. These would not be cheap (the material cost alone will be hundreds of dollars, and that will just be a fraction of the final price), but this page gives the details.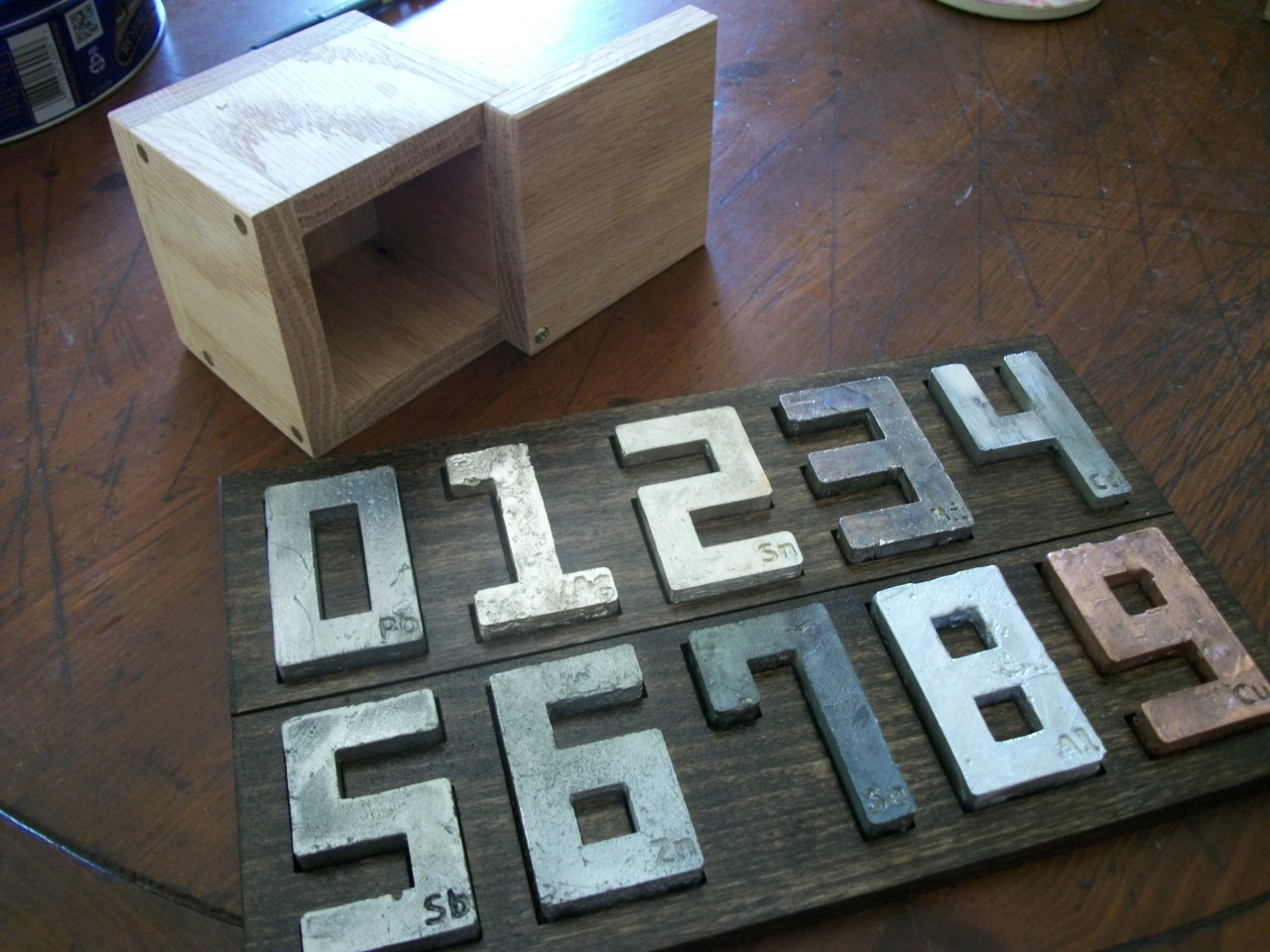 The first two sets I made are for myself; the first just to see if it could be done, and the second to refine the casting processes and to start experimenting with alternate elements. If you order the elements used to create each digit (0 through 9), you can construct a "design code" for that particular set. My first two sets are represented by these two design codes:

Set #1: Pb-Ag-Sn-Bi-Cd-Sb-Cu-In-Al-Zn
Set #2: Pb-Ag-Sn-Bi-Cd-Sb-Zn-Se-Al-Cu

I don't expect to make a lot of custom sets for other people, but if I do, I will follow a couple of basic rules:
I will only use elements. No alloys or other compounds. So, no brass, bronze, pewter, or such.
Each set I make will have a unique design code. In other words, a customer may choose which elements are used for which digits, but whatever combination is decided upon, it must be different from any previous sets I have created (whether for myself or someone else). This will ensure that the set is unique.
Because of toxicity of some of the elements potentially used, I will only ship these within the United States; no international orders. Sorry.
If you are interested in a bespoke set for yourself, you may download this spreadsheet to study potential costs of a set based on what metals are used for which pieces. Note, this spreadsheet is in OpenDocument format and is readable in OpenOffice or LibreOffice -- I assume it is probably also readable in Microsoft Office, but I'm not positive. When you open it, there are two sheets ("PIECES" & "ELEMENTS"); you should only alter the data in the first sheet in the highlighted yellow cells (where you are told to enter element choices). When you enter the element names, all other data will be appropriately recalculated. Any custom sets created will be the same size as my second set (essentially they are designed to fit in a 2.5 inch cube).
The "ELEMENTS" sheet of the spreadsheet lists densities and costs for reference. With that spreadsheet you may explore different element options. For example, maybe you are trying to minimize material cost. Or maybe create the heaviest set possible (or lightest).
Below I discuss what elements can be used (these are included in the spreadsheet above); I also discuss elements which cannot be used, for various reasons...
Element Choices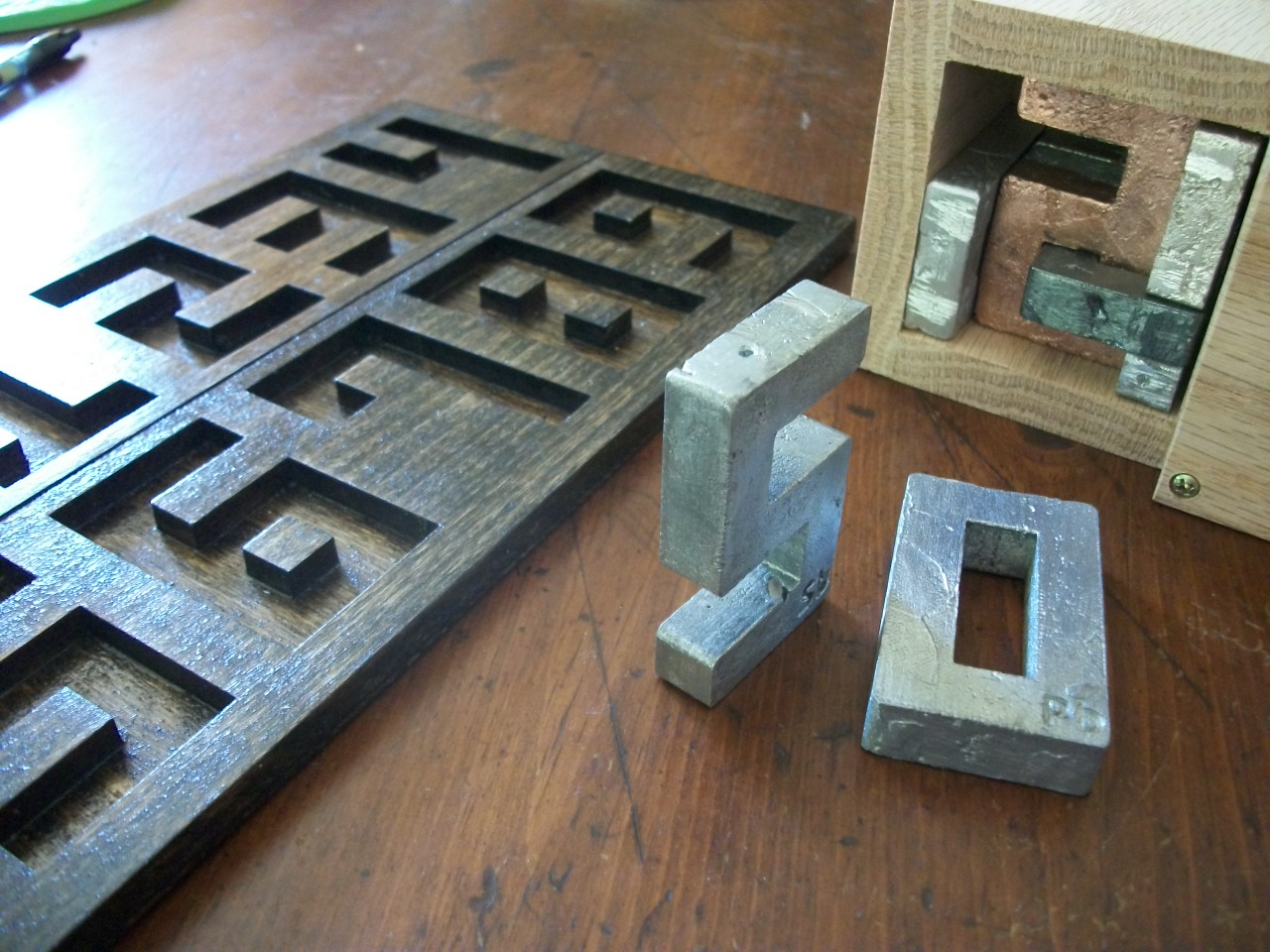 IMPORTANT! Some of these metals are considered toxic! I will provide links to the National Institute of Health's (NIH's) webpages about these substances; please read about these elements before you request of me the creation of any puzzle pieces with them. Do not buy a set as a toy for children. These sets are meant to be more artistic in nature; it can be played with as a puzzle, but if you are going to be working with it excessively, you should probably just by a plastic set.

Beyond the links I give, you are encouraged to research each element thoroughly (Wikipedia is always a good place to start).
Elements That Can Definitely Be Used
The below eleven elements are the ones I used, in some combination, to create my first two sets. I am confident in my ability to melt and cast these elements. A couple of them (selenium and indium) have interesting physical properties that make them better suited for particular pieces/shapes.