Puzzles
For my whole life I have been interested in puzzles and games, and in the last few years I have been fortunate enough to turn that passion into a profession. I design all types of puzzles: paper-and-pencil brainteasers, physical/manipulative puzzles, number puzzles, riddles, and all-day scavenger hunts for people to explore.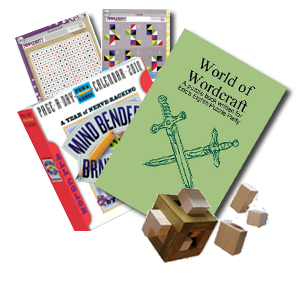 My work has been for companies all around the world. Puzzles of mine have appeared in the Perplexcity alternate-reality games (by Mind Candy), in Wired magazine, GAMES magazine, at Lone Shark Games events, in puzzle calendars, on-line treasure hunts, and so forth.
I host annual puzzle parties where many of my initial puzzle ideas are play-tested by very patient friends. Ever so slowly I will detail some of my creations on this page. They illustrate the expansive variety of media and puzzle types with which I have been involved. If you are and individual or company looking for unique puzzles or games for any reason, contact me at eric@ericharshbarger.org.