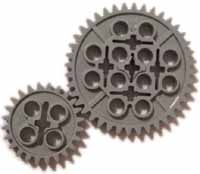 About Eric Harshbarger
After studing mathematics formally (and receiving a Master's Degree in the subject from Auburn University), Eric Harshbarger then spent several years as an computer programmer while living in San Francisco, California. Leaving that industry (and city) in early 1999, he began taking a renewed interest in a childhood pastime: building with LEGO bricks.

What started as an "adult hobby" quickly evolved into a serious endeavour. By the end of 1999 LEGO building was generating an income for Eric, and within one more year it was his primary form of employ.

Eric's works have appeared on national television shows including NBC's Today Show and Ripley's Believe It or Not! He has earned recognition as being one of the top LEGO sculptors and mosaicists in the world despite the fact that he has never actually been an employee of The LEGO Company.

He continues to build with bricks and experiment with the popular "toy" medium while accepting commissioned projects from indivduals and corporations seeking works of art and tradeshows looking for eye-catching exhibits. Clients have included the MIT Media Lab, the U.S. Patent and Trademark Office, the National Toy Hall of Fame at the Strong Museum, and the LEGO Company itself which commissioned Eric to build a large mosaic of the New York skyline to hang in the downtown Manhattan offices of the company.

More information about Eric and his non-LEGO interests may be gleaned from his website.