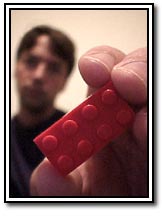 Professional LEGO Sculpting and Mosaic Building
An Independent Brick-Builder since 1999.

Please note that after several years of professional LEGO building, I have become more selective about which commssions I take on in this field. I've not ruled out all commissioned projects, but I am really only doing commissions that truly spark my interest. Also, I only focus on 2D mosaics and murals built out of LEGO bricks... I create very few 3D sculptures these days. If you think you have such a project in mind, please read as much of this website as possible, get a feel for what I've done in the past, have a clear vision in mind, and then contact me with a clear, detailed email. Thank you.