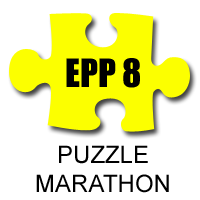 Wrap-Up
Well, I'm not going to write quite as long of a wrap-up section about this Puzzle Party as I usually do. This is not because it was unsuccessful. To the contrary, it probably has more to do with how successful it actually was. It was the longest PuzzleHunt ever done in Auburn (26 hours), it was the most-attended PuzzleHunt ever done in Auburn (50 participant across 6 teams), and no doubt the most tiring PuzzleHunt I have yet organized -- but tiring in a good way.

Some of the highlights include the starting live-action maze held in the Upper Quad Center of Auburn University. The fifty players started the Hunt trying to navigate brick walkways adhering to specific color patterns of arrows (blue, red, yellow, white, then repeat).

White Team was the first team to exit the maze (after about 30 minutes, I think). That finish allowed them to get a jump on the other teams, and it was a lead they never really relinquished. Other teams did narrow the gap, but in the end, it was the White Team which found the hidden Easter Egg in Auburn, and guarantee the win at about 3AM early Sunday morning.

But even as word got out that First Place was locked up, the other teams continued to play... some participants not sleeping at all for the whole twenty-six hour duration. Some of the other puzzles they encountered caused them scavenge through a 24-hour grocery store looking for hidden stickers on products, sneak around a movie theater screening room looking for prize envelopes, and running around a cemetery at two o'clock in the morning.

There were relatively simple anagram puzzles, more cryptic math-themed conundrums, poker based challenges, an online text-adventure, a puzzle combining note-to-rotation audio tracks for a Rubik's Cube, and much, much, more.

There was a meta-puzzle as well which helped "seal the deal" for White Team, but win or lose, everyone seemed to have a grand time. And I heard no one complain that in ran on for too long. The over-a-day duration may be the new standard for the Puzzle Parties I host from now on.

So, congratulations to White Team (Mike Hollingsworth, Mark Brady, Tracy Cobbs, Heath Hopkins, David Jarrell, and Seth Humphery), thank you to all of the other teams as well as the many assistants, proofreaders, and play-testers who helped me host my Eighth Puzzle Party.

Some more photos (pics are courtesy of David Jarrell and Mark Brady):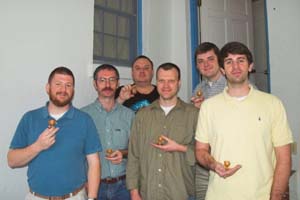 If any other participants have photos or write-ups of the Party, please send them my way; I'll be happy to include them on this page.

Here is a list of the twenty-six puzzles featured at the Marathon:
Audio Rubik's Cube
Blinded By The Light
Chemical Additives
Dissections
Elvis Lives!
Follow The Path
Google It!
Hand Woven
International Cuisine
Junior's Math Problems
Krogering
Look For The Theme
More Than One... Solution?
Number Crunching
Orientations
Plotting Your Course
Quad Maze
Running Across Words
Sign Language
Time Will Tell
Unique Transformation
Vexing Message
World Of Wordcraft
X Marks The Spot
Your Name Here
Z Is For...
Earlier Info...
EPP 8 (= 2 + 6)
Well, I'm afraid I won't have a spectacularly thematic Puzzle Party as the pageant-themed one Mike & Kelly put together in Fall of 2008, but I'll try to make up for it with sheer volume. Actually, there will be a bit of a theme. Last Spring I latched onto an "egg" motif for some inexplicable reason... this time around I've settled on a rather Seasame Streetish idea:

My Eighth Puzzle Party will be brought to us by the number "26"!

You'll find this number crop up in several ways, the most obvious being that this Puzzle Hunt will be 26 hours long. That's right, 26 hours long. Several players have requested that I design a longer Party/Hunt, and I figure that for those people who drive in from out of town for these shindigs, why not keep 'em busy the whole time?

| Name | Value |
| --- | --- |
| Any 1st-timer | 2 |
| Zac Aldewereld | 4 |
| Daniel Auchenpaugh | 3 |
| Katie Baldwin | 3 |
| Cayce Bean | 3 |
| Danny Belu | 4 |
| Edward Boudreaux | 5 |
| Mark Brady | 7 |
| Leshay Brannan | 3 |
| Leah Brannan | 3 |
| Scott Brown | 4 |
| Tracy Cobbs | 7 |
| Carmen Coleman | 3 |
| Josh Coleman | 3 |
| Rachael Counselman | 3 |
| Chad Counselman | 3 |
| Abby Creel | 3 |
| John Creel | 3 |
| Harry David | 3 |
| Blake Dayton | 3 |
| Deborah Few | 3 |
| Robert Ford | 5 |
| Jimmy Fordham | 3 |
| Michael Francis | 4 |
| Bob Gillis | 5 |
| Marsha Gillis | 5 |
| Dan Gillis | 3 |
| Megan Grace | 4 |
| Gina Greiwe | 3 |
| Adam Gullatte | 3 |
| Adam Hajari | 4 |
| Katie Hammond | 4 |
| Audrey Hammonds | 4 |
| Tim Hardwick | 5 |
| Eric Harshbarger | 4 |
| Linda Harshbarger | 3 |
| Dean Hoffman | 3 |
| Sarah Holiday | 3 |
| Kelly Hollingsworth | 5 |
| Blane Hollingsworth | 5 |
| Mike Hollingsworth | 5 |
| Heath Hopkins | 4 |
| Scott Ingram | 4 |
| Christy Jansen | 3 |
| Marshall Jansen | 3 |
| Trent Kinnucan | 4 |
| Sarah Kraynak | 3 |
| Eric Larsen | 4 |
| Jason Lewis | 3 |
| Jennifer Lewis | 3 |
| Henry Lim | 4 |
| Sean Lowery | 3 |
| Joe Mantler | 5 |
| David Mason | 4 |
| Kristie Mason | 4 |
| Tracy McClure | 3 |
| Naomi McCormick | 3 |
| Paul McCormick | 3 |
| Morgan McElwee | 3 |
| John Middleton | 3 |
| Big Al Miller | 3 |
| Harry Newburn | 3 |
| Emily Norman | 4 |
| Kimberly Nunes-Bufford | 3 |
| David Plaxco | 3 |
| Mitch Plaxco | 3 |
| Scott Richardson | 3 |
| Steve Rowe | 3 |
| Chip Self | 3 |
| Christine Senger | 3 |
| Betty Senger | 3 |
| Dane Seward | 3 |
| Bill Sherling | 5 |
| Dorothy Sherling | 4 |
| Miller Sherling | 3 |
| Mark Spencer | 3 |
| Billy Symon | 3 |
| Andrew Thomas | 3 |
| Jenny Thomas | 3 |
| Courtney Tytler | 3 |
| Megan Vaughn | 3 |
| Bill Vascocu | 3 |
| Robert Voitle | 3 |
| Jennifer Wang | 3 |
| Lee Warshaw | 3 |
| Will Whatley | 3 |
| Sharon Yarborough | 4 |
| Kishan Yerubandi | 4 |
| Jimmy Yeung | 4 |
So, this Puzzle Hunt will start at 10 AM on Saturday, 4 April 2009, and "time" will be called at noon the next day, Sunday, 5 April.
Teams will be on their own the whole time... responsible for their own meals, any sleep they may want to catch, and where to establish their "headquarters". The Hunt will not start at my house as has been tradition in the past. Closer to the Puzzle-Day, instructions will be given to teams as to where they should be at 10 o'clock on Saturday morning. This will be a "hunt" variety of party, meaning that teams should be prepared to travel about Auburn looking for more puzzles and clues. All typical resources will be allowed (Internet access, code sheets, laptops, cellphones, and such).
Updates/Errata
11:38am, Eric is back at his house and available for hints or other phone calls.
3:02pm, A few errors have been found in the puzzle "Chemical Additives" (if more are found, they will be listed in this section). Specifically:

Row 1, Col 8 should be "H" not "F"
Row 10, Col 8 should be "Hg" not "Ar"
Row 6, Col 40 should be "Pm" not "Pd"
Row 12, Col 32 should be "O" not "Ru"
Row 16, Col 26 should be "Gd" not "Mo"

5:30pm, an UPDATE about the text-adventure portion of "Z is for..." Be sure that you stay online the whole time you are trying to play the game. Trying to continue offline will cause buggy behavior.
7:23pm, an ERROR in "Number Crunching"; the answer is not unique. When your team gets this puzzle, call me. You will only have to describe the puzzle, and I will give you the answer.
8:15pm, Note that many of the puzzles which involve the environment around you will become much harder at night. You may have to wait until daybreak to resume. You may attempt them at night, or, if you have other puzzles, you may wish to focus on those.
10:04pm, Note that on "World of Wordcraft", to receive an envelope when your Travelogue is graded, you must have a valid "path" for your character which ends at his/her "home". Your score will then be how much gold you have. That amount could be as little at zero gold, but this would still earn you an envelope. Having an invalid "path" (or not being able to justify your path through the book, however, will disqualify you from an envelope choice).
11:09pm, also with "World of Wordcraft"; even though I ask you to write you final path in the book, if you wish, you may record your journey on a separate piece of paper (so as to not deface the book). However, when you come to get the puzzle graded, I will only look at one copy of a Travelogue -- whichever you say is "official".
12:24am, there are a couple of important typos to note in the dying words of the monsters in the text-adventure part of "Z is for...". The Dragon should say, "TENENOI". The Kobold should say, "COPEOEU".
3:00am, I am going to sleep some. I may not answer the phone for a while. Stay tuned.
3:53am, I am awake again. You may call.
REMINDER of deadline times for certain puzzles:

World of Wordcraft will be scored at 9:00am (at my house)
Hand Woven will be scored at 10:00am (at my house)
Your Name Here will be scored at 10:30am (at my house)
Orientations must be turned into me by 11:00am
Google It! will be scored at 11:30am (at my house)
Teams
Team formation rules will be similar to ones most recently used (they seem to be doing a good job of encouraging teams to find new members while still allowing veteran players to form core groups). Basically, a team member will be worth a number of Points toward team formation (the player's worth is based upon past participation and whether or not he or she has won past parties or hunts). New players are worth 2 Points, and anyone else (who has already been to a past party) is worth 3 Points plus the number of wins or trophies he or she has accumulated. A summary of players' values is given to the right. I am basing it upon this spreadsheet which I have been trying to maintain accurately for all parties (if you notice something wrong about the information, please let me know). Players who are traveling to Auburn from outside the Auburn/Opelika area have their cost reduced by 1 Point (this reduction is not reflected in the chart at right).

The total number of Points that a team may accommodate for players is, you guessed it, 26. This total should allow for slightly larger teams than in the past. This is purposeful as I expect there will be many teammates who will not be willing or able to stay awake for twenty-six hours straight working on puzzles.

Names which are crossed out on the list to the right indicate that those people are helping to organize or play-test the Puzzle Marathon, so they should not be considered as potential teammates.

I will design the Puzzle Marathon anticipating six teams (and use color-coding as I have in past), but I will try to accommodate more teams if needed. Team color assignment is on a first-come-first-served basis. Each team will need to have a team captain designated by Puzzle-Day (they will be my point of contact for their teams throughout the day).
TEAM ROSTERS
BLACK
BLUE
GREEN
RED
WHITE
YELLOW
Kelly Bragan (2)
Robert Ford (4)
Megan Grace (4)
Tim Hardwick (5)
Emily Norman* (4)
Sean O'Neill (2)
Charles Tilman (2)
Scott Varagona (2)

Amanda Kaye Bain (2)
Tanner Bain (2)
Mike Bergman (1)
Jaye Herrod (2)
Kelly Hollingsworth (5)
Allison Miller* (2)
Anne Norton (2)
Amy Rifenburg (2)
Meghan Vaughn (3)
Jennifer Wang (3)
Kristin Watson (2)
Bob Gillis (4)
Dan Gillis (2)
Marsha Gillis (4)
Adam Gullate (3)
Katie Hammond* (4)
Trent Kinnucan (4)
Will Whatley (3)

Anne Daniels* (2)
Todd Daniels (2)
Russ David (1)
Kyle Fritz (1)
Mike Kunze (1)
Tim Nicklien (1)
Mark Brady (6)
Tracy Cobbs (6)
Katie Daniels (2)
Michael Hollingsworth (5)*
Heath Hopkins (4)
Seth Humphrey (2)
David Jarrell (1)

Denizcan Billor (2)
Miranda Burnette (2)
Melanie Butler* (2)
Eric Hayes (2)
Heather Hughes (2)
Ben Lewis (2)
Payton Staub (2)
Amy Steinkampf (2)
Jose Valenzuela (2)
Viviana Valenzuela (2)
Thomas Yuill (2)
Joshua Zills (2)
Total Points: 25
Total Points: 26
Total Points: 24
Total Points: 8
Total Points: 26
Total points: 24
* Team Captain (my contact person for the team), be sure I have this person's phone number BEFORE the day of the party.
"Un-teamed" players. These are players who have said they will likely show up on Puzzle Day, but for one reason or another have not yet settled on a team. If you are looking to bolster your team's roster, you may want to try to recruit these folks: No One Unteamed currently.

Of course, you are also encouraged to invite other friends as well.
The Puzzles
As I always do, I will try to challenge the teams with a variety of different styles of puzzles: word puzzles, number puzzles, manipulative/physical puzzles, codes, environmental puzzles, and so forth. The difficulty will range from fairly easy, to very cryptic and difficult (I've got to keep you busy somehow for 26 hours!). The answers to particular puzzles will usually lead teams to other locations where the next puzzles can be found. Some puzzles will have slightly different formats, but will be fully explained as necessary. The plan is to design 26 different puzzles.

The winning team will be determined in the following way: each location where puzzles are stashed will have large envelopes containing the next puzzles. When a team arrives, they are allowed to take one of the envelopes from the group. All of the envelopes at a particular locatin will contain the same puzzle (to be solved next), but the outsides of the envelopes will have differences. Randomly distributed amongst all of the envelopes at all of the locations throughout the Marathon will be letters of the alphabet printed on the outside (for example, the first team to get to a location may find six envelopes with the following letters printed: A, D, R, R, T, and X).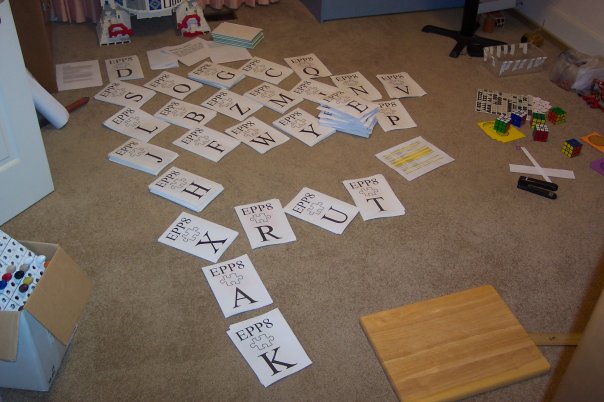 A team should decide which envelope/letter they wish to take (again, only one envelope may be taken by a team, but teams arriving first will have more choices as to which ones to take -- but, remember, the same puzzle will be inside all the envelopes at the same location). Once an envelope has been removed from the location (and certainly once it has been opened by a team), it should not be returned to that location (in other words, pick your envelope carefully... don't later change your mind). At the end of the Marathon, the team which has accumulated the longest unbroken, alphabetical sequence of letters will win.
There will also be a meta-puzzle of sorts which could lead teams to a single meta- prize (I'll stick with the egg theme again -- being near Easter and all -- it's pictured below). If a team finds that hidden egg before noon on Sunday, they will automatically win the Marathon, regardless of envelope/letters collected.
As usual, teams may call me, the referee, and ask for hints if they get stuck. I will ask them to discuss all of the information about a particular puzzle they think they know, and then I will offer to given them an appropriately helpful hint. If the hint is accepted, I will record it as being divulged to that team. The number of hints a team takes will be subtracted from their envelope-letter-sequence-length at the end of the day for final scoreing.
Finally, teams will be allowed to trade envelopes with other teams throughout the competition. Only the empty envelopes should be traded (teams should remove the puzzles that came from within). They may trade any combination of envelopes for information about other puzzles or whatever.
At the end of the Marathon, the team captains will present me with the envelopes their teams have collected, and I will determined the winning team as described above (longest uninterrupted sequence of letters -- and, yes, cyclic sequences may wrap around from Z to A -- less the number of hints the team was given). In the case of a tie, the team whose members first names have the most different letters of the alphabet will win. If still a tie, then gladitorial combat to the death will take place...
Recommendations
Here are some recommendations:
Have at least four people on your team (and someone fairly familiar with the Auburn/Opelika area).
You probably want a "team headquarters" where you will centralize during the Marathon. Your team may NOT be headquartered at my house (that's my headquarters).
Have access to the internet, cellphones, laptops, printers and so forth.
Have one or more vehicles at your disposal (you'll likely want to split up during the day).
These things may also prove handy:

A compass (directional compass).
A (well-tuned) musical instrument.
Common office supply items (scissors, tape, push pins, etc)
"Cheat sheets" with common (and uncommon) codes.
Someone who has studied this webpage.

Check back to this webpage for updates.
The Trophies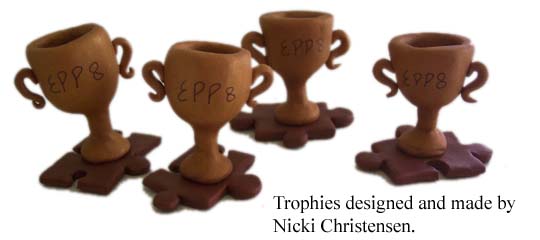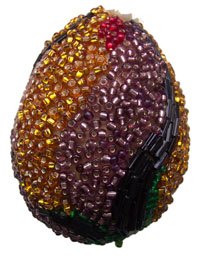 Trophy Egg designed by
Linda Harshbarger