25 April 2021
Troublesome Signs
This old road sign is less than 100 yards from my house, and it has always puzzled me: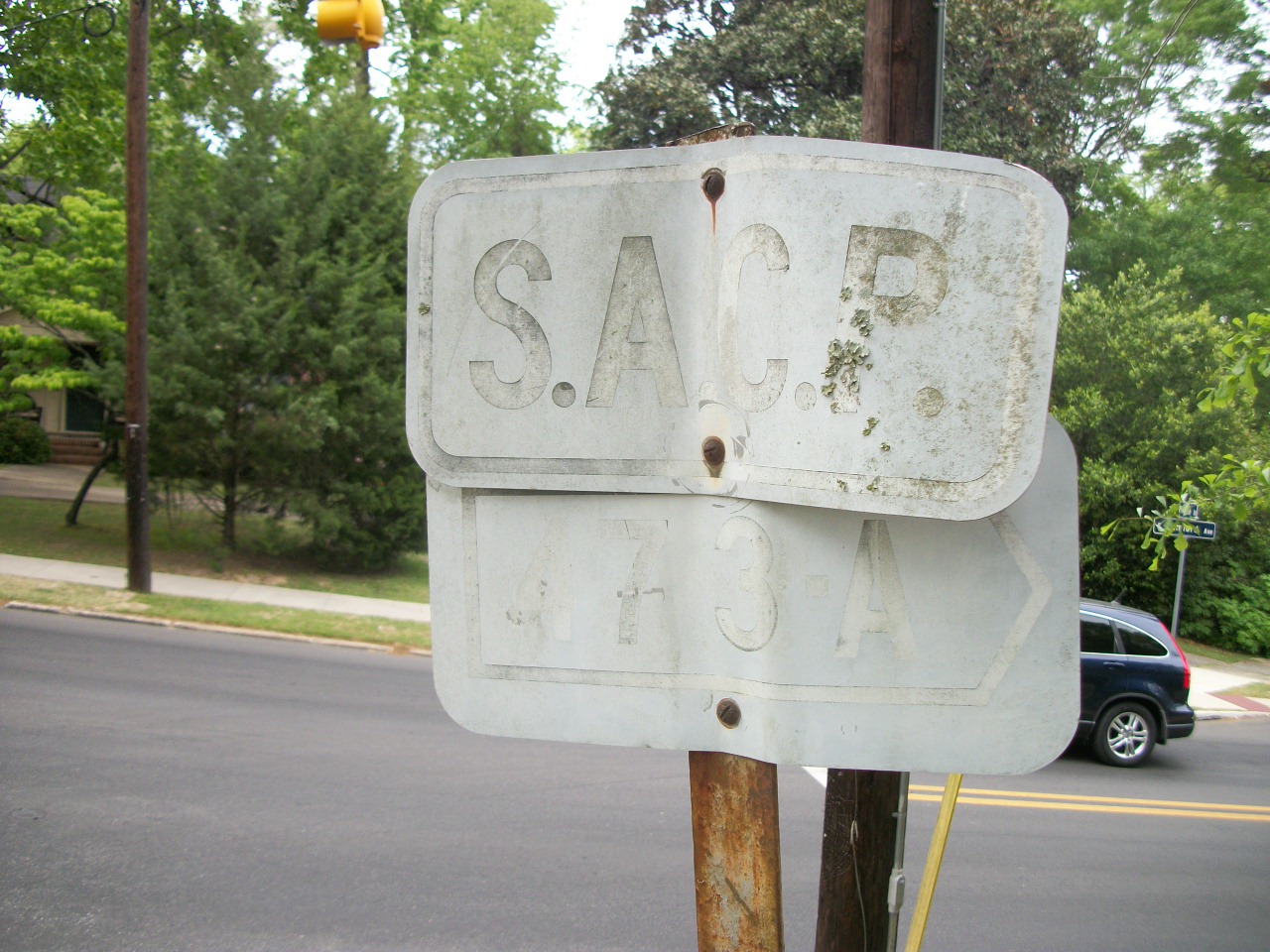 The top placard clearly reads "S.A.C.P." while the bottom one is barely readable as "473-A" with that designation surrounded by an arrow that points to the right. I have always wondered what this signpost was designating.
The most obvious answer would be the road itself. But that numbering (473-A) in no way aligns with the current (or any past, as far as I know) numbering of either Samford Avenue or Moores Mill Road, which is the intersection where the signpost is located. Of course, this thing is old, barely readbale at this point. So, maybe the numbering is from a system that was way before my time?
Or maybe it designates something else? Utility lines? Gas lines? Secret mole-man tunnels?
There are other such signs in the county, but they are not easy to spot (they do not stand out at all and you really have to be looking for them to have a decent chance of spying one). Here's one that is in Opelika where King Avenue crosses Airport Road: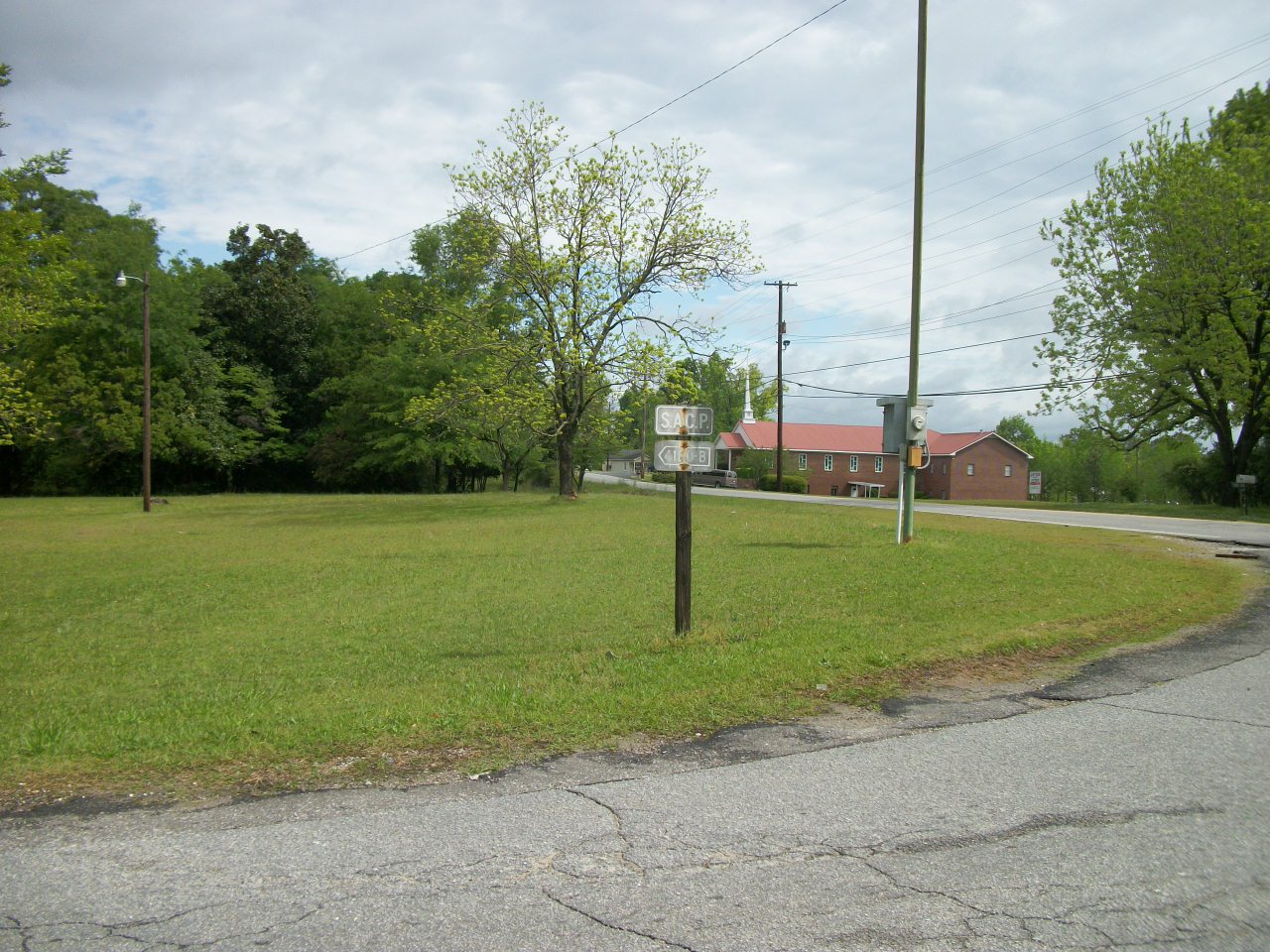 When I spotted that one years ago, it was only the second one I then knew about.
Then, a couple of weeks ago, while walking along a county road (right where Lee Couty Road 157 starts at the Macon County border), I spotted another one obscured by trees: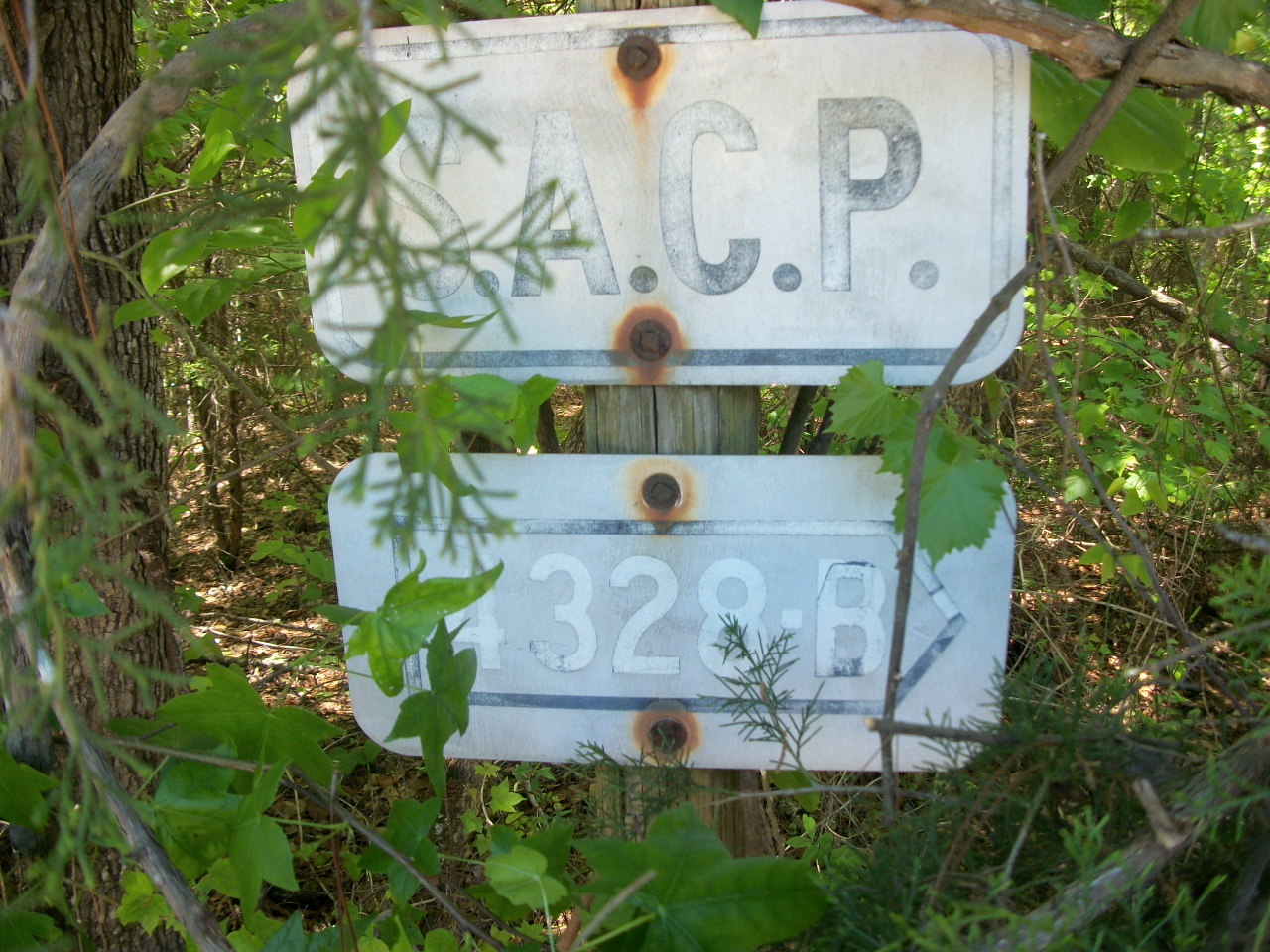 At that point my interest was renewed and I was determined to find out more about these signs.
Another clue cropped up yesterday, when I spied this sign where Saugahatchee Road begins off of Opelika Road in Auburn: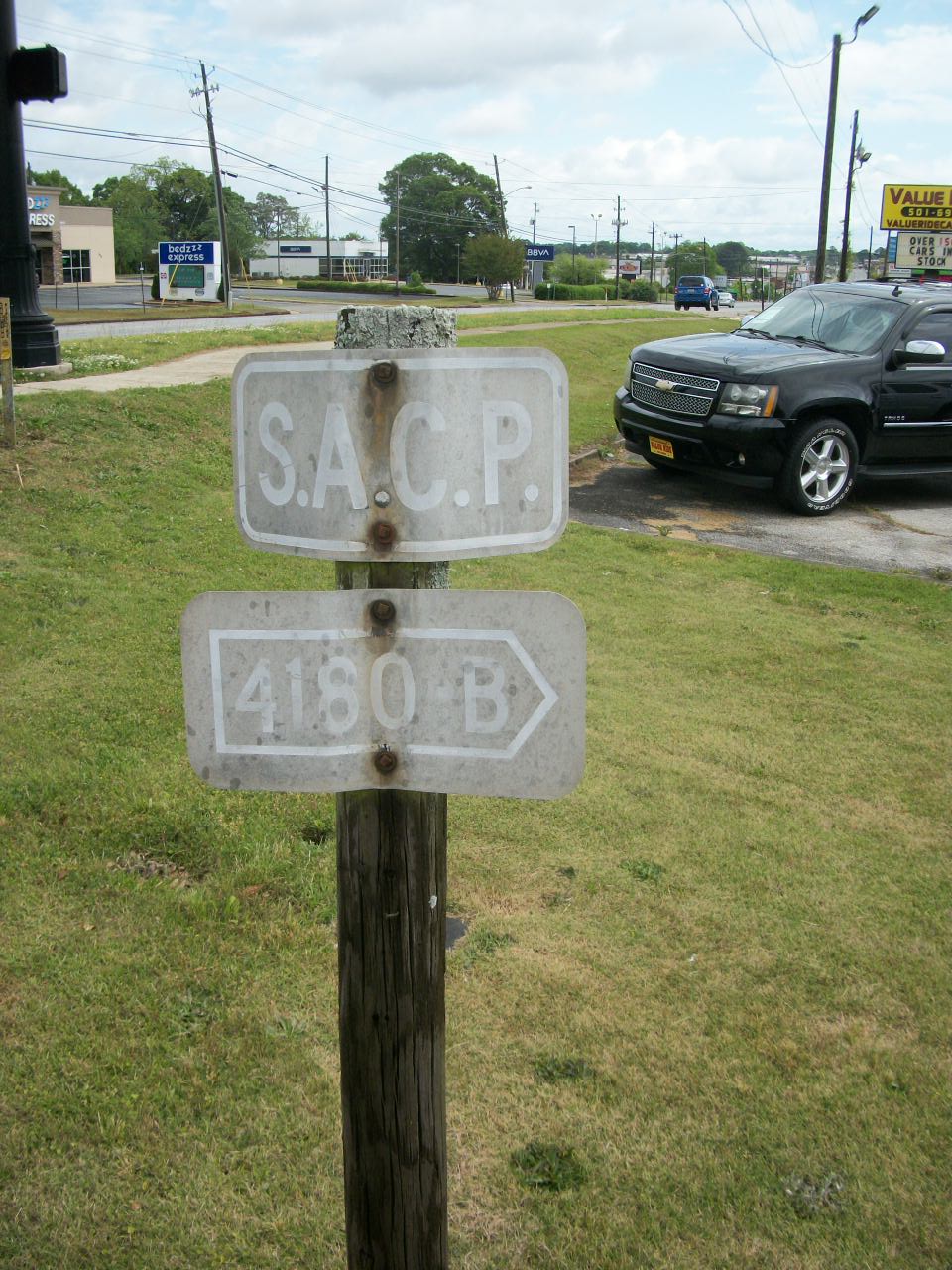 Would you look at that? It's the companion sign to the one in Opelika mentioned above. The same number designation but with the arrow pointed in the other direction. And, in fact, the two signs point toward each other back along a route that is essentially the combined length of Saugahatchee Road and Country Club Road.
This hinted at a couple of things. First, the signs most certainly are marking the roads themselves (alas, not secret mole-man tunnels). Secondly, they were probably established on at least the county level (not the city level) since this pair of signs span a route in both Auburn and Opelika.
Another surprise awaited me today as I walked 20 miles back from my parents' place in the county. I spotted the companion sign to another one mentioned above: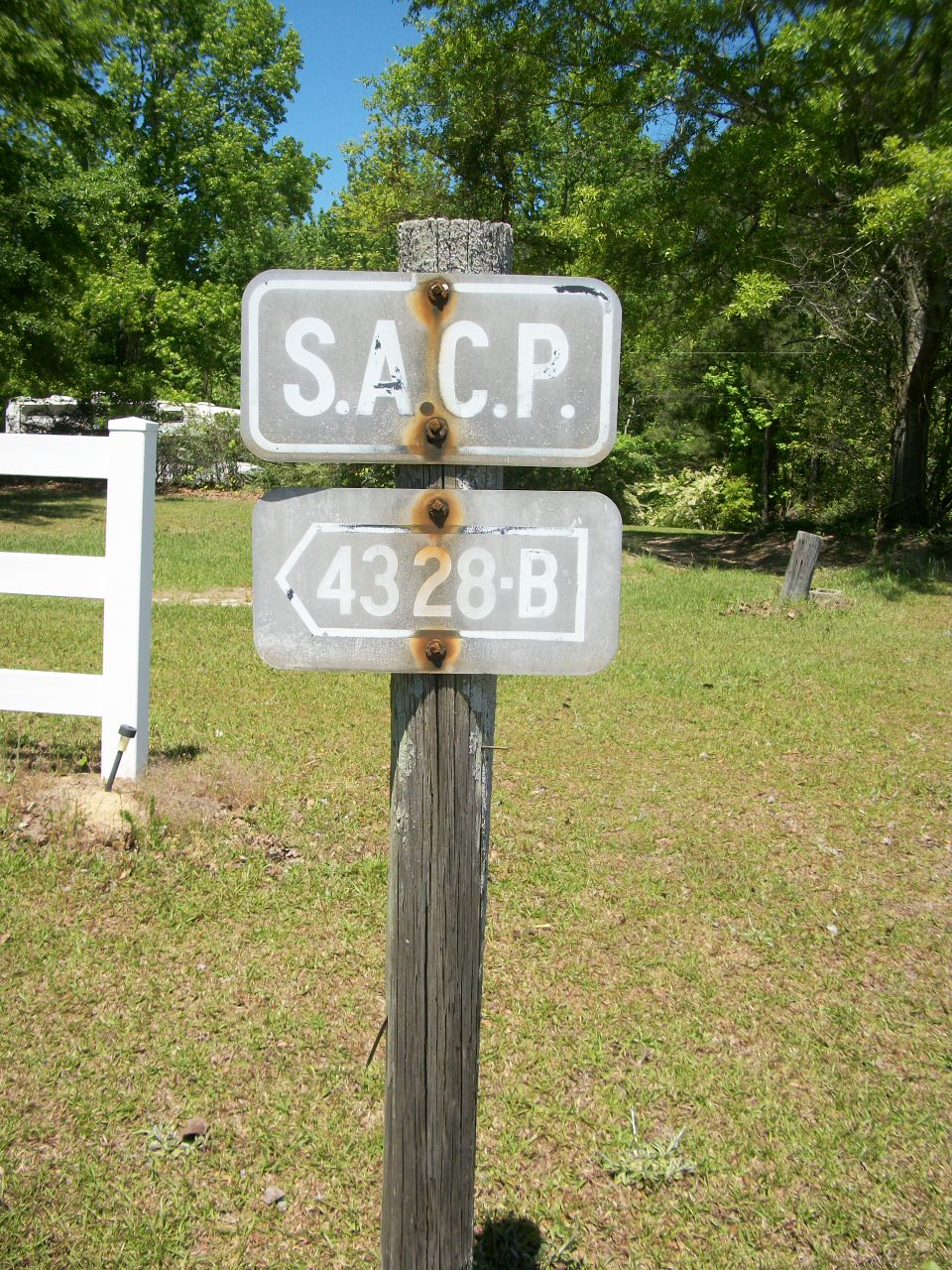 It is at the other end of CR157, and I had probably walked right by this one two dozen times during the past five years but had never noticed it until I was actively looking for such things. These signs might be everywhere, and are just so nondescript that they are completely overlooked.
But, my main question was still unanswered: "what does the "S.A.C.P." stand for?"
Well, I'm not the first person to notice these signs and ask this question. Through the power of Google searching, I found this brief comment thread.
So, evidently, the initials stand for "State Aid County Program". I'm still not quite sure what this program is (though I'd bet it has something to do with aid money for states and counties to build roads...). Is it unique to Lee County? or is it an Alabama state program? or is it a federal program that other states take advantage of? I will further research that topic soon.
Intriguingly, I have not yet found the companion sign for the one near my house. One problem is that the sign is twisted and it is not clear if it points eastward down Samford Avenue or southward down Moores Mill Road. The Samford Ave. route is fairly short, and I have not spotted another similar sign down it's length (though, of course, I very well may be overlooking it). Maybe the companion sign is on (or at the end of) Moores Mill Road, but, if so, it may be a while before I spot it; Moores Mill Rd. is a long road. I have walked the whole length of it (it finally dead ends into State Road 169, miles and miles away), but I don't know when I might find the time to travel it again with an eye out for such a signpost.
---
Article Topics:
roads_scholar
signposts
---