6 October 2019
The Last Outhouse?
Today I stumbled across what must surely be one of the last of its kind within the city limits of Auburn: I discovered the ruins of an outhouse.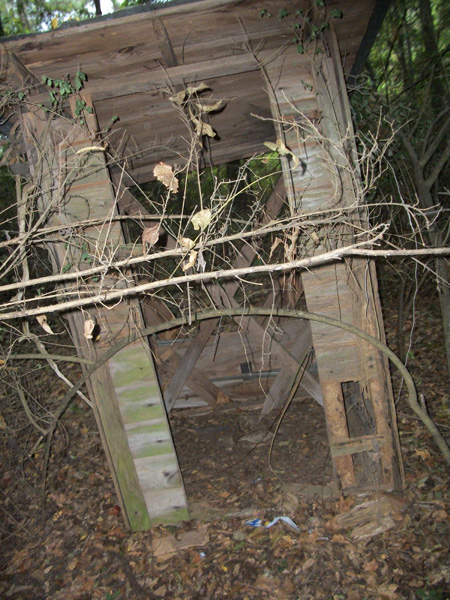 This was found in a small strip of woods between Glenn Avenue and Railroad Avenue in the west part of Auburn. As recently as a few years ago there were still several old houses along the railroad tracks, but they are quickly disappearing -- being replaced by new student apartment complexes.
However, in one area, where there is a dirt lane cut through the woods and the former dwelling has been razed, you can still find the above structure which was undoubtedly, at one time, an outhouse. It's classic "outhouse-sized", and while there is no seat within it, dug into the ground at the rear of an interior is a hole where one's "outhouse business" fell.
I wonder when this thing was originally built? When was it last used as a proper outhouse? Could there possibly be any other such ruins still standing today somewhere else in Auburn?
Topics: ruins
---
Add a comment
(Comments will be truncated to a 200 character maximum. Comments should be in plain text -- HTML code will be nullified. Inherently this is an anonymous form; I am not collecting any information on the commenters. You may sign the comments however you wish. All comments will be publicly displayed. I reserve the right to delete any comments I want, for any reason. If you don't like that, build your own website and write comments there. All comments are the opinions of commenting individuals and do not necessarily represent my views.)
Archive [39]
2020 [7]
2019 [26]
· DECEMBER [1]
· OCTOBER [2]


· SEPTEMBER [2]
· AUGUST [3]
· JULY [2]
· JUNE [1]
· MAY [2]
· APRIL [2]
· MARCH [4]
· FEBRUARY [6]
· JANUARY [1]
2018 [1]
2017 [1]
2016 [3]
2015 [1]

Topics
· animals
· auburn_university
· bridges
· cemeteries
· chewacla_state_park
· churches
· creeks
· libraries
· little_texas
· loachapoka
· maps
· milling_about
· puzzle_parties
· roads_scholar
· roxana
· ruins
· schools
· springvilla
· stage_road
· weather