26 March 2019
Culs-de-sac
(An initial thanks to my friend, Tim, who pointed out to me the correct pluralization of "cul-de-sac").

A short (10 mile) walk today took me to two places among Auburn city streets where past culs-de-sac have been broken so that the previously deadend roads now connects to other thoroughfares:

Looking at old aerial photos of Auburn, it appears that the cul-de-sac on Windway Rd. was broken between 1986 and 1997 when the first roads of what would eventually become the sprawling Grove Hill subdivision were being paved:
Windway Rd. Cul-de-sac

1997

1986
The history of the Terrace Acres cul-de-sac is a bit harder to determine because the older aerial photographs are of such poor resolution:
Terrace Acres Dr. Cul-de-sac

2017

1980

1973

1966
It certainly appears that by 1980 Terrace Acres Drive had been extended to connect to nearby Green Street, but that may have occurred in the 1973 and 1966 photographs as well? It's hard to tell if the eastern part of those old photos depict developed neighborhood houses or if the area is undeveloped land (and it is even more difficult to tell if the cul-de-sac in the center of the picture is present or not).
The snippet from a 1973 City of Auburn Street map sheds more light on the topic: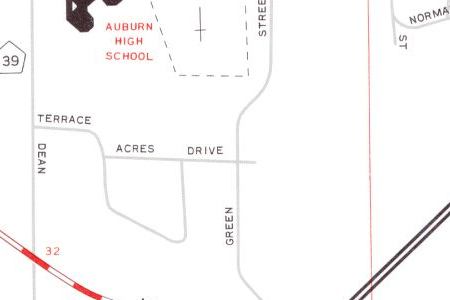 It shows Terraces Acres Drive connecting with Green Street by that point, so the cul-de-sac (a half block to the west of that intersection) must have been broken by then. I have not found any older city road maps that cover this vicinity, so we can't be sure at what point Terrace Acres Drive dead-ended.
One final note on this subject: Dumas Street. Present day Dumas Street meets with Heard Avenue at a rounded intersection that very much seems like it could have been a cul-de-sac at one point. However, looking back at this 1944 street map of Auburn, it appears that Dumas Street was never a proper cul-de-sac. That map shows that the road does dead-end in the sense that it does not connect with any other streets, but the two little spurs leads one to believe that the end of the road was never a rounded circle as one envisions a cul-de-sac being ("cul-de-sac" literally meaning "bottom of the bag" in French).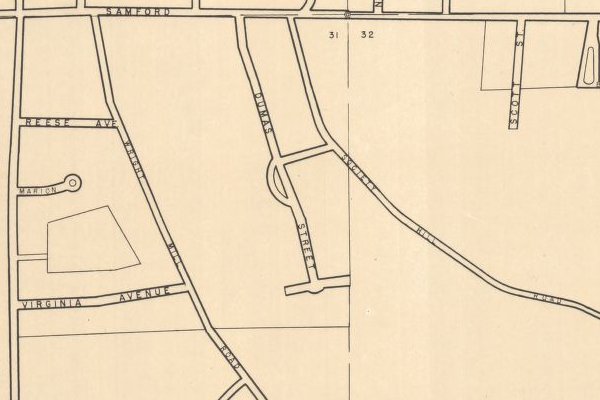 This is all getting overly semantic at this point, but my personal ruling would be that this last example is not one of a "cul-de-sac-no-longer" because it was never a cul-de-sac in the first place...
---
Article Topics:
maps
roads_scholar
---