4 March 2019
Tornado!
On 3 March 2019 a major tornado (possibly multiple tornadoes) passed through southern Lee County. As I write this at least 23 people have been reported killed by the storms and thousands of people are still without power.

I am intimately familiar with the rural area affected by this storm; my parents live about a mile away from where the majority of the damage was sustained. As I read about all of the road closures, I recognize every one of the County Road number designations; I have walked those roads more times than I can count. From the reports I've read so far, it sounds like the worst damage was done in the red highlighted area in this map: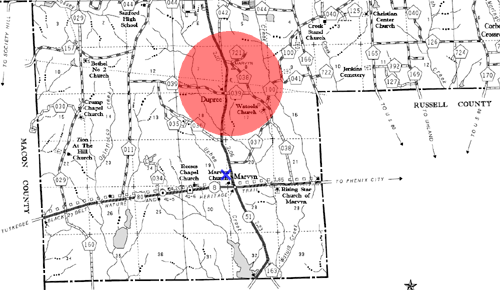 (My parents' home and acreage is marked at the blue X).
I expect to visit their place tomorrow (driving out there, not walking).
---
Article Topics:
weather
---
Archive [58]
2022 [4]
2021 [9]
2020 [13]
2019 [26]
· DECEMBER [1]
· OCTOBER [2]
· SEPTEMBER [2]
· AUGUST [3]
· JULY [2]
· JUNE [1]
· MAY [2]
· APRIL [2]
· MARCH [4]




· FEBRUARY [6]
· JANUARY [1]
2018 [1]
2017 [1]
2016 [3]
2015 [1]

Topics
· animals
· auburn_university
· bridges
· camp_hill
· cemeteries
· chewacla_state_park
· churches
· creeks
· foraging
· libraries
· little_texas
· loachapoka
· maps
· milling_about
· notasulga
· puzzle_parties
· roads_scholar
· roxana
· ruins
· schools
· signposts
· springvilla
· stage_road
· trains
· tuskegee_national_forest
· unpaved_roads
· weather