7 February 2019
Map of My Progress
"He loved maps, and in his hall there hung a large one of the County Round with all his favourite walks marked on it in red ink." -- The Hobbit, J. R. R. Tolkien
I've been making long walks around Auburn and throughout Lee County since 2015. To keep track of my progress, I use a pretty old school method: I simply highlight the roads I've trekked on a large printed map of the area. I printed out PDF road maps obtained from the Alabama Department of Transportation website. Taping together the maps of Lee County and surrounding counties (Chambers, Tallapoosa, Macon, and Russell), yielded a large cartograph that I have affixed to a wall in my house: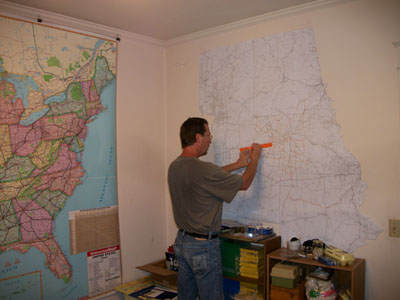 A slightly closer look at the map shows how much of the area I've covered: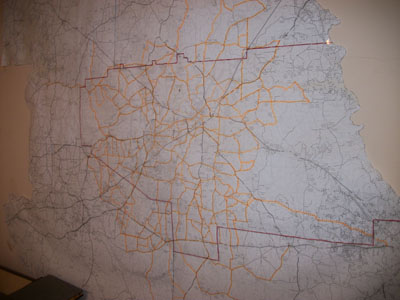 I've covered about 3/4 of the county roads at this point (missing the eastern most roads near the border of Georgia). I've also walked a bit in at least some of each of the surrounding counties.
---
Article Topics:
maps
---
Archive [64]
2023 [6]
2022 [4]
2021 [9]
2020 [13]
2019 [26]
· DECEMBER [1]
· OCTOBER [2]
· SEPTEMBER [2]
· AUGUST [3]
· JULY [2]
· JUNE [1]
· MAY [2]
· APRIL [2]
· MARCH [4]
· FEBRUARY [6]






· JANUARY [1]
2018 [1]
2017 [1]
2016 [3]
2015 [1]

Topics
· animals
· auburn_university
· bridges
· camp_hill
· cemeteries
· chewacla_state_park
· churches
· creeks
· foraging
· libraries
· little_texas
· loachapoka
· maps
· milling_about
· notasulga
· puzzle_parties
· roads_scholar
· roxana
· ruins
· saugahatchee_road
· schools
· signposts
· springvilla
· stage_road
· trains
· tuskegee_national_forest
· unpaved_roads
· weather