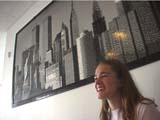 Pixelego software tool
A software tool that converts a digital image into a plastic plate/brick partitioning (as if it were a mosaic made from LEGO bricks).

Update (9 June 2001): I have stopped distributing my Pixelego program. When I decide to release another version of it, it will be made available at this webpage. -- Eric Harshbarger

Examples of works created using the Pixelego application:

Eric Harshbarger's LEGO website. If you are interested in creating your own LEGO mosaics, a few alternatives to Pixelego are listed on my LEGO FAQ page.

---
APPLET DEPOT: INTRO - NEWS - APPLETS - DEMOS - CUSTOM - FAQ - EMAIL
---
The Applet Depot and all associated applets, text, scripts, and images, Copyright © 1998-2002 by Eric Harshbarger unless otherwise noted. 'Java' is a registered trademark of Sun Microsystems Incorporated.
---